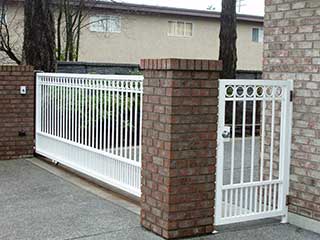 We all want our home or property to not only look good, but also offer security for us and our families.
Having an electric gate for your home not only provides this, but it is also extremely convenient. You'll be able to open and close your gate from the comfort of your car, and you won't be tasked with struggling to manually move it.
What's the difference between an electric residential gate and a manual one?
The difference lies in the motor that runs your gate and the opener that operates that motor. Without those two components, you'll have a manual gate that you will have to physically open and close whenever you use it.
Do I really need an electric gate then?
No, you don't. There's absolutely nothing wrong with having a plain old manual gate, but why settle for less when you can have so much more?
We briefly touched on the convenience and security benefits, but let's discuss this a bit more. Your streetlights might be out and your street is cloaked in nearly absolute darkness. Did we mention you only have a manual residential gate? You start seeing shadows and a feeling of uneasiness creeps up on you. You know that you have to leave the safety of your car to open the gate but you're stuck in panic mode. Let's add a thunderstorm into that scenario. So, now you're scared of the shadows and also not too keen on getting soaked.
This picture would be so much different if you had opted for an electric gate and opener. At just the touch of a button, your gate would open smoothly and you would be in your property in no time.
Sounds great, but how do I set it up?
That's where we come in. We have plenty of years' experience in the industry and that shows in the way we work.
Our friendly and knowledgeable technicians are on hand to not only provide a great customer experience, but also a professional service.
A residential gate consists of many components, including the actual heavy gate. This is why only professionals should be responsible for installing everything and luckily for you, our business is full of them!
What if it breaks?
We offer comprehensive repair and replacement services, which means that you don't have to worry about a thing!
We'll assist you in making sure that your gate lasts for a long, long time!
I have some more questions
We'd love to hear from you so please give us a call if you need any additional information.
Here at Gate Repair Plano, we'll ensure that you're 100% happy with our products and services. What are you waiting for? Give us a call today!
Give our team a call if you need help with:

Phone Entry Systems

Gate Remote Program

Ornamental Iron Gates

Swing Gate Adjustment