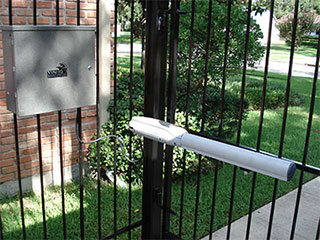 Electric gates offer convenience, safety and practicality. But like all equipment, it is impossible for them to last forever. When they do eventually malfunction it can typically be due to wear and tear rather than from the direct result of an accident. Some issues may seem simple to fix yourself but most of the time only a trained professional will know how to execute a solution that is both effective and entirely safe. Here is a list of some of the most common malfunctions that can be found with electric gates.
Disabled Electric Gates
If your gate is completely disabled and seems to not respond at all, this can be due to a number of reasons. Firstly your remote batteries could be dead, or your clicker or switch is incorrectly programmed. Electric openers all come with safety sensors. The sensors on the gate could be causing the fault due to misalignment or dirt. If the sensors are triggered they prevent the gates from moving any further. If they are knocked out of alignment or have unclear lenses, they could be stopping the doors from being activated.
Motor issues
Like any other kind of motor, electric gate motors have a working life span. They can become weaker and damaged over time. As they suffer from varying levels of degradation, their ability to handle the weight of the gate can lessen until they fail to meet the necessary output altogether. If your motor seems to run, but no motion occurs, it may need a replacement or servicing.
Opener Battery Failure
If the battery on an opener is damaged or broken, no part of the system will turn on or seem to function at all. Sometimes a battery can have a delay if it has sat unused over a very cold night. Like a car battery it is possible for opener batteries to lose their charge in cold conditions. They can be swapped for new ones, as well as housed in improved containers to prevent this error continuing in future.
Electric Gate Services
Gate Repair Plano offers repair and installation of all residential electric gate designs and openers. We can ensure your electronic gate is installed and fitted perfectly on your property. We have the expertise to work with a wide variety of openers and manufacturer brands, as well as provide professional advice on the best solutions for your specific circumstances.
Our team can also take care of:

Swing Gate Operator

Rotten Gate Repair

Gate Motor Replacement

Program Doorking Intercom